How to Change Header Layout
Trending Mag have two Header Layout in Free Version.
You can choose your Header Layout navigating on

Dashboard >> Customize >> General Options >>
Top Bar
Top Bar is part of Header Layout in Trending Mag. You can Enable or disable Top Header by Clicking on Green Toggle Button.
You can Add three sections on Top Bar
Left Sections : ( You can choose Today's Date or Call To Action or Custom Text )
Today's Date: Current Date will display if you choose Today's Date from the Dropdown Left Content area. Also, you can choose 4 different date format options.
Call To Action: You can put your own text with a link. You can put links for example https://google.com at Call To Action Link and Google as a Text in Call To Action Lebel.
Custom Text: You can Put your Own Custom Text only on your left top header section.
Middle Sections :
The Middle section is for Menu. You can choose the menu by navigating to Dashboard >> Customize >> Menus >> View All Locations and select menu that you want to show to Top Bar.
Before selecting menu for Top Header you have to create menu first. You can click Create New Menu now you have to give name for menu. Any name as per your wish ( for eg. top menu ) now select Menu Location select Top Bar
How can we create WordPress Menu for header?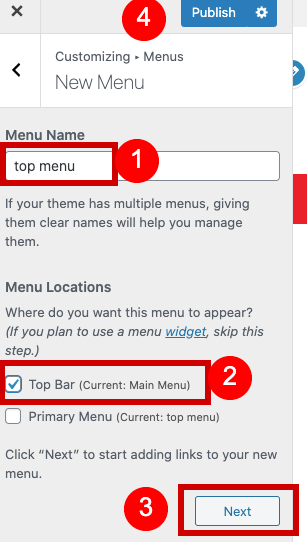 Now Click Add Items for Menu Items. Here I have screenshot that will help you step by step on creating WordPress Menu setup.
Now you can add Menu items. You can choose WordPress menu items from your posts, pages, category, Custom links and many mores.
Once you click Add Items you can see one more panel expand on your right as shown in the screenshot. You can choose your Menu Items from the right panel for example I have chosen Home, Sample Page from Page sections. But you can choose from Posts, Custom Links, Tags or any options available. Just Click the small black triangle present on side of Items.
You can just click on page to bring to the menu list. You can also search menu items or you can create a new page.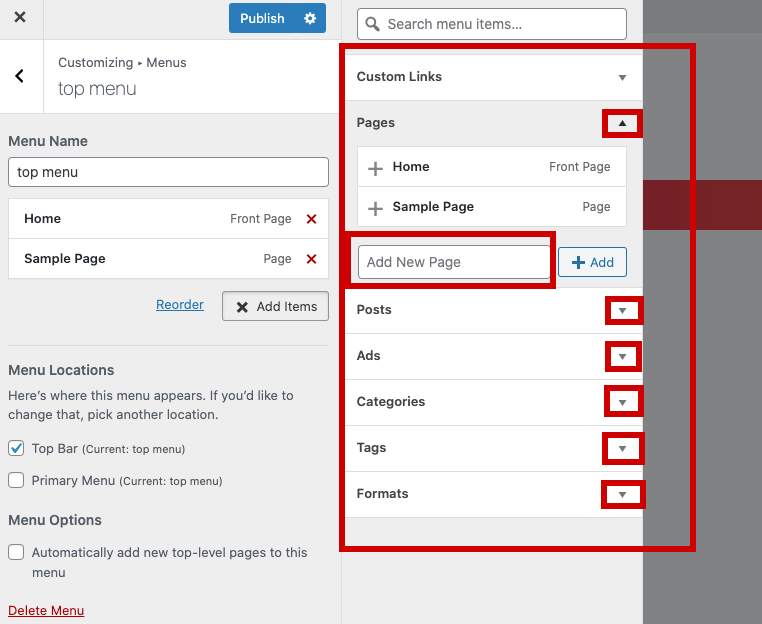 Right Sections: You can add your Social Share links on the right side of the top header. You can add your social links navigating on Dashboard >> Customize >> General Options >> Social Links
Add your Social Links. You can add Facebook, Twitter, Instagram, Linkedin only in free version.