Before Demo Import you need to follow a few steps
We recommend a fresh WordPress Installation for demo Import. If you have fresh Installation you can move to Demo Import Starting Steps
Demo Import import our ready to go demo in your website as s started website in just few clicks.
If you have already used and imported some other theme demo then we recommend reset your WordPress Installation by navigating to Appearance >> Demo Import On the upper left corner your will see Run Reset Wizard. This will delete all your posts and pages and reset your WordPress Installation. Have look at the screenshot for a reference.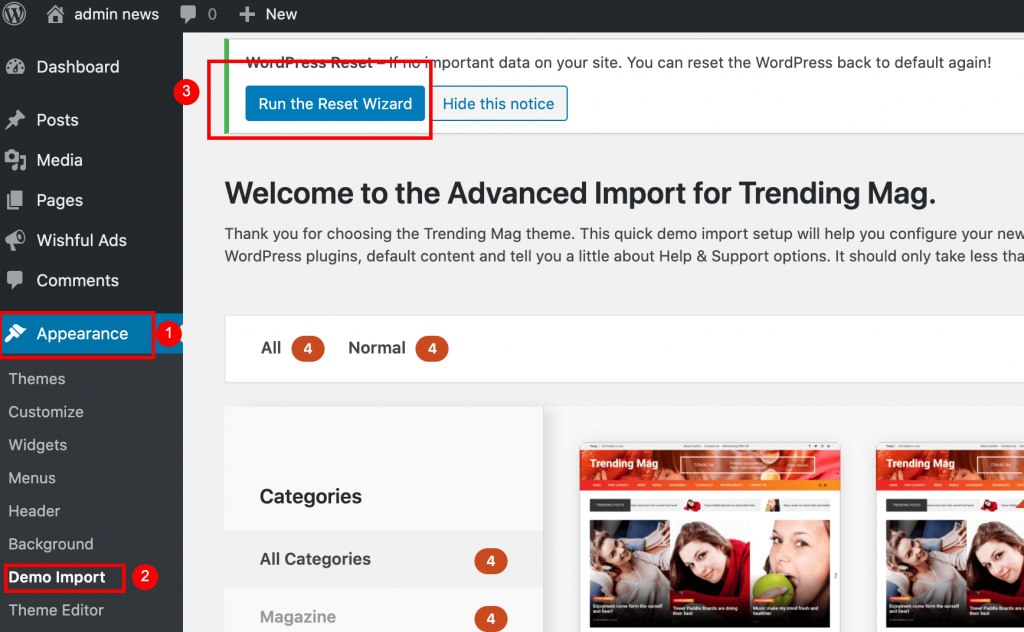 After reseting your WordPress You need to Activate Wishful Companion Plugins navigate to Dashboard >> Plugins and Activate required Plugins.
You may see some recommended plugins notification to activate it. You need to activate those recommended plugins.
Demo Import Starting Steps
If you wish to import the demo content and start to edit your site, then you can easily import the demos we have made for you. Before you start, you need to click on Get Started button which will be shown after activating 'Wishful Blog' theme.
If you miss that, nothing to worry. You can search our plugin from Dashboard – Plugins – Add New. There you have to search for 'Wishful Companion' and install and activate it. Once you activated, you will be redirected to import page.
Still you are confusion then, click here to download this plugin. Once you downloaded, upload this plugin from Dashboard – Plugins – Add New. There you can see upload button and you can install and activate it.
Now, after successfully activated, you can see all the demos that can be imported. You can preview the demo by hovering it and click live preview. If you want to import the demo you liked, then select the demo and you will be provided steps to follow.
Additional Information : No any datas or posts/pages will be affected while importing demos. You should not be worrying anything if you have existing pages and posts.
Note : Pro text are displayed for pro demos and cannot be imported untill and unless you are pro users.
If you have any issues regarding demo Import you can contact us on this email [email protected] our team will help you.