How to Install Wishful Blog Free WordPress Theme
Here We assume that you have already installed the latest version of WordPress and you are right now on your WordPress Dashboard.
We have many ways to install and activate Theme in WordPress. However we will discuss two main and possible ways. They are
From online ( Without Downloading Theme File in your computer)
Download the Theme file to your computer.
Via FTP
From online:- If you have already purchased your domain name and hosting and also installed WordPress to your domain name or test domain.
Navigate to Dashboard >> Appearance >> Themes >> Add New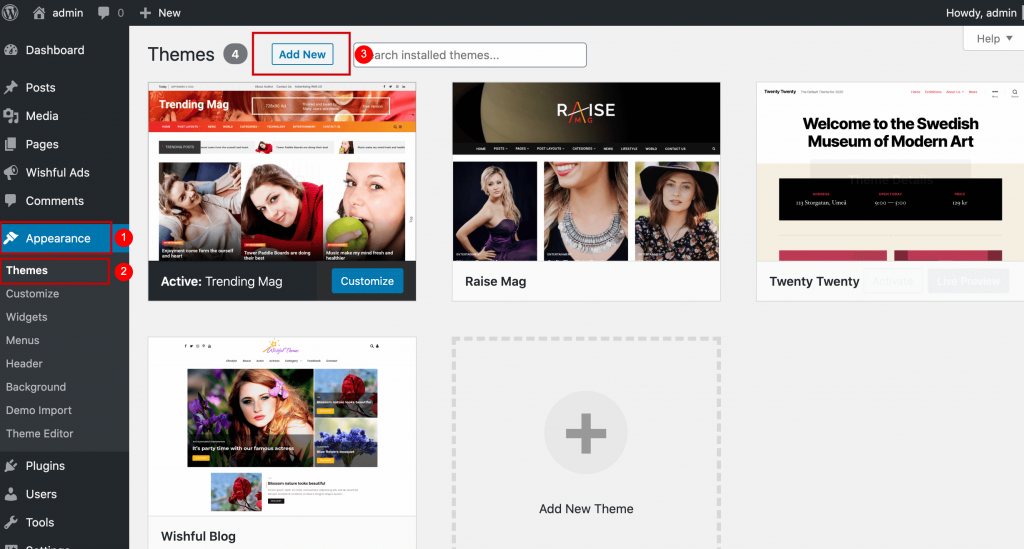 Now search Wishful Blog in the right search box. As shown in the screenshot below. If you search the Theme Name and select the theme and click on Activate button.

After Installing Activate the Theme. After Installing its time to activate the recommended plugins.
The second Method Generally used for Premium Version WordPress Theme / Plugin
2. Download the Theme file / Plugin to your computer.
First of all You have to download Zip file first to your computer. A WordPress Files (in .zip format) — This (wishful-blog.zip) is a compressed WordPress theme file containing all of the required templates, images, and icons required for the theme to function properly.
Note for Safari users (macOS): There is a 99% chance that your downloaded theme file unzip automatically. If you are using the Safari browser to download the theme file, the file may unzip automatically. So, make sure your download file is in .zip format. Here's how to stop Safari from automatically unzipping your .zip file.
Now I Suppose that you have downloaded ZIP Theme File.
Navigate to Dashboard >> Appearance >> Themes >> Add New
Now You can see the Upload Theme button. Click this Upload Theme button and upload the Zip theme file you have downloaded. Make sure it is in ZIP.

Now Click Install Now and once it installed now Activate it.
Now Time to install the necessary recommended plugins. We will discuss in next sections
3. Via FTP
Get log on into your site file manager through FTP accounts. Extract the file 'Wishful-blog.zip' you downloaded from our Store. Go to the YourSiteName/WP-content/themes/ folder on your server and upload the extracted folder. Now, navigate to Dashboard – Appearance – Themes and you can see 'Wishful Blog' theme listed. Click on install and activate to use it.
---
Now you have successfully installed and activated 'Wishful Blog' theme. Cheers ! Now you can enjoy our theme features to manage your site.